Our Family
Many of you may remember our children from when we were on the field in Kenya, Africa. When we started, our youngest, Jerusha, was four years old and the oldest, Johanna, was sixteen with the three boys spaced in between. Since more than a decade has gone by, we thought you might be interested in a family update: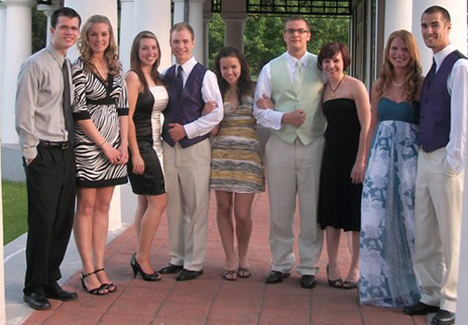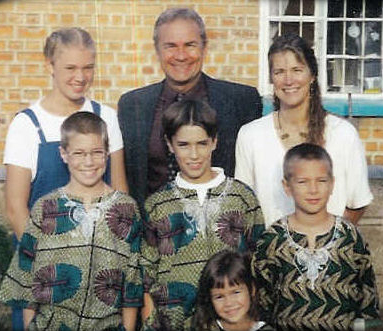 Looking at the photo from left to right:
Johanna married Matthew Gilmore in March 2010. She has a Bachelor's degree in Social Work and is a nanny for three small girls. Matt has an AS in Marketing, Management & Sales and works for Corning, Inc. as an Infrastructure Technician. In January 2012 their first baby was born, Genesis Nicole, our first grandchild!
Israel married Jacqueline Cortland in June 2010. Israel has a BS in Criminal Justice and works full-time as a peace officer at Tompkins Cortland Community College and part-time as a police officer in Dryden, NY. Jacqui graduated from Ithaca College with a Bachelor's degree in Cinema and Photography and works free-lance. At TC3, Israel also runs an on-campus ministry. As youth group leaders, he and Jacqui have led yearly teen mission trips into Nicaragua.
Jerusha (holding Israel and Jay's arms) is attending Corning Community College studying Hospitality, a branch of Business Administration. She also works at Bed Bath and Beyond. Recently, Jerusha has become engaged to Greg Sutton, a wonderful addition to our family!
Japheth married Danielle Harris in August 2013. They returned to live in Franklin, NY while Jay finished his final semester at SUNY Oneonta and graduated in December with a BS in Business Economics. Jay now works as a sales engineer for Directive, a newly expanding marketing company. He and Danielle lead a weekly homegroup for college students and are both musically-gifted worshippers. Jay continues to play bass in the worship band Oceans and Vessels.
Jotham married Beth Waters in May 2011. Joth has a Bachelor's degree in Computer Science from Binghamton University and Beth studied physical education at Roberts Wesleyan College. They live in Austin, TX where Joth works for Hewlett-Packard Co. In May 2012, Joth and Beth had their first baby, Gideon Michael, our first grandson.
As you can imagine, Mom and Dad couldn't be prouder, especially with all the kids serving the Lord in various ways. The home front is shrinking fast with the fifth and final wedding on the horizon. But, we see this coinciding with the ramping up of COGO and our ability to minister out and overseas more.
The Lord gave this verse to David when we ventured forth to the field with our family in 2000:
"By faith he dwelt in the land of promise as in a foreign country, dwelling in tents with Isaac and Jacob, the heirs with him of the same promise" (Heb. 11:9)
We are forever humbled by God's faithfulness to us and our children as we continue to live in that land of promise.